An Introduction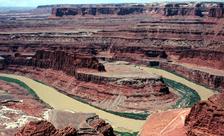 Colorado River loop near Shafer Canyon
CLICK HERE to make a donation to Canyonlands Watershed Council
via the Love Utah Give Utah console

At the left column you will find links to help you search for relevant documents, data, and graphics about our watershed and community.
The planning document of the Canyonlands Watershed Council is currently under development and the proposed Table of Contents is available here.
Do you have a resource item to share? Do you want to be involved in this community activity?
Contact Canyonlands Watershed Council

PUBLIC NOTICES

NOTICE OF PUBLIC MEETINGS
GRAMAS (Utah's freedom of information legislation)
BUREAU OF LAND MANAGEMENT (BLM)
COMMUNITY IMPACT BOARD

MINING CLAIMS
UTAH DIVISION OF ENVIRONMENTAL QUALITY
UTAH DIVISION OF AIR QUALITY

UTAH DIVISION OF OIL, GAS AND MINING (UDOGM)
(Username and Password: ogmguest)
UTAH DIVISION OF WATER QUALITY
UTAH DIVISION OF WATER RIGHTS
UTAH STATE LEGISLATURE