Castle Valley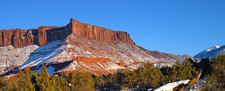 Winter in Castle Valley
Castle Valley is a community of Grand County north of Moab and accessed by "The River Road" or Hwy 128. The valley is about 8 miles long and 3 miles wide (15,360 acres) and drops from nearly 6000 feet to about 4200 in elevation.In the upper valley is the community of Castleton.
Up until the 1920's, the focus of the Castle Valley farming community was towards Castleton, then a small mining and sheepherding boomtown, and the post office/general store in Richardson, an outpost in Professor Valley. With the decline of Castleton and the disappearance of Richardson, Castle Valley's isolation led to the selling and consolidating of land into large ranching parcels. The "old ranch house" near the large cottonwood tree was the homestead of what eventually became the McCormick Ranch.
The Carlsberg Development Corporation bought the McCormick ranch and got approval for the plat of Castle Valley River Ranchos in 1973. The sale of lots began in 1974.

In the early years, as an unincorporated community in Grand County, the Castle Valley River Ranchos Property Owners Association was critical to governance. In 1985, the Town of Castle Valley was officially incorporated.
WEB PAGES
GROUNDWATER
See also Groundwater section here
FLOODS