BLM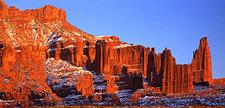 Fisher Towers in Professor Valley
BUREAU OF LAND MANAGEMENT
In 1946 the federal agencies known as General Land Office and Grazing Service were merged and renamed as the Bureau of Land Management (BLM). In 1975 Congress passed the Federal Land Policy and Management Act (FLPMA), which declared that federal lands managed by the BLM would remain under public ownership and under a multiple-use agenda, which includes opportunities for wilderness protection.
History of the Bureau of Land Management (BLM)

The BLM manages 22.9 million acres in Utah (42%) with 3.6 million acres in Grand and San Juan Counties.
The BLM also manages several National Monuments in the Colorado Plateau such as Grand Staircase/Escalante and Canyons of the Ancients.
BLM BULLETIN BOARDS FOR PROJECTS UNDER ENVIRONMENTAL COMPLIANCE LAWS
OIL AND GAS LEASING
FEBRUARY 2013 OIL AND GAS LEASE
Click here for information; and also  here.
FEBRUARY 2012 OIL & GAS LEASE
Grand and San Juan Counties
HOME PAGES

RESOURCE MANAGEMENT PLANS (RMP)
RMP Archive

1992 BOOK CLIFFS HIGHWAY DRAFT EIS
COLORADO RIVER RECREATION
LA SAL COMPLEX EA

LAND EXCHANGES
OIL & GAS
2010 - Gasco EIS Volumes 1 & 2. Vernal BLM.
Please write or call us at FarCountry to report a problem or add resource documents.
OLD SPANISH NATIONAL HISTORIC TRAIL
MAPS
MILL CREEK PARTNERSHIP
SOCIOECONOMIC REPORTS
BLM WILDERNESS
1990 - Utah Stewide Wilderness Final EIS. BLM.

1999 - Maps of Utah BLM Wilderness Inventory (cache). GPO.
WATERSHEDS
Mill Creek Partnership docments