Uranium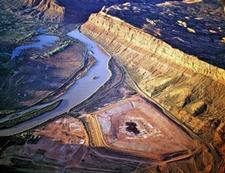 Moab's uranium mill waste
Moab was once the "Uranium Capital of the World." That distinction ended in the 1980's when demand for this rare metal dropped significantly. Currently, there are only two uranium mills in the United States near Blanding, Utah and Canon City, Colorado. Mitigating past uranium mills for safety and health laws in southeast Utah has occurred in Green River, Monticello, and Mexican Hat. The cleanup for the Moab Mill, the second largest tailings pile in the nation, began in 2009 and will take 10-years for an estimated cost of $1 billion dollars.
Home page of Uranium Watch
Home page of Sheep Mountain Alliance
NEW INFORMATION
La Sal Complex Plan (uranium mining expansion)

NEW INFORMATION
Pinon Ridge Uranium Mill by Energy Fuels. (Proposed at Paradox Valley, CO)
Energy Fuels Application
Mancos Resources
This proposed uranium milling operation in Green River, Utah was unable to secure a water right for their operation.
Click here to read the administrative record.
Sheep Mountain Alliance
NEW INFORMATION
Northern Arizona Proposed Withdrawal Draft EIS (Grand Canyon Watershed)
Comments due April 4, 2011
Nuclear Power Plants
2012 - Dangers of living near nuclear facilities. NAS.
UTAH GOVERNMENT
Public records: Utah Oil, Gas & Mining. (Username and password is ogmguest)
FTP Site. Utah Oil Gas & Mining
URANIUM MINING AND MILLING
2004 - White Mesa Archeology. Glen Canyon Group, Sierra Club
2005 - A Technical Report Toward Reclaiming Uranium Mill Tailings. Dohrenwend and Greenbaum.
2008 - Uranium Mining. Southwest Hydrology.
WEB PAGES
Uranium Watch home page
Wise Uranium (Moab Mill Reclamation)
Moab City/Grand County UMTRA Project Information
Department of Energy: Moab UMTRA Project