Grand County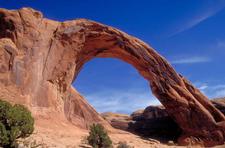 Corona Arch
Grand County has a land area of 3,682 square miles and the estimated population is 9,589 (2008), which is 2.3 people per square mile. As of the census in 2000 the county seat, Moab, had a population of 4,779, and Castle Valley had a population of 349.
There is more state land (SITLA) in grand County by percentage, than any other county in Utah, infact 14.9% of Grand County (about 550 sq miles) is owned by SITLA. More than half of the SITLA land in Grand County (about 280 sq miles) is concentrated in one contiguous mass in north central Grand County (along the southern margin of the Uintah basin, along the crest and on the northward dipping slopes of the Roan/Book Cliffs)
CONTACT INFORMATION
DEMOGRAPHICS
Grand County. Southeastern Utah Association of County Governments.
ECONOMICS - See Economy
FLOODS
WEB PAGES
BOARD OF ADJUSTMENTS
GRAND COUNTY DOCUMENTS
Grand County Planning
Comments from Canyonlands Watershed Council on the 2011 General Plan Update. (Under Construction)

First Letter
Second Letter
Third Letter
Johnson's Up-On-Top (Cloudrock)
GRAND COUNTY WATER CONSERVANCY DISTRICT
Grand Water & Sewer Service Agency
Spanish Valley Water and Sewer Improvement District
MOAB IRRIGATION COMPANY
MAPS
MILL CREEK PARTNERSHIP
Mill Creek Partnership website
ORDINANCES
ROADS
WELLS
OTHER
/farcountry