Colorado River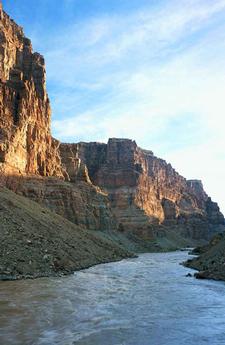 The Big Drops in Cataract Canyon
The annual rainfall at the Colorado River bridge near Moab City is 9 inches a year and even lower (7 inches) at the Green River bridge in Green River City. The annual evaporation rates are greater by at least seven times.
Yet the modern-day flow of the two rivers beneath the two bridges is around 10 million acre-feet. A total average of about 11 million acre-feet enters Lake Powell every year, but consumption and climate change will continue to lower this statistic every decade hence.
None-the-less, the power of this moving water is why this landscape looks the way it does and this resource is our community's greatest gift.
BUREAU OF RECLAMATION
NATIONAL OCEANIC AND ATMOSPHERIC ADMINISTRATION
ON THE COLORADO (comprehensive)
US GEOLOGICAL SURVEY
WESTERN WATER ASSESSMENT
OTHER
/farcountry